9 Steps to Building an Efficient Restaurant Loss Prevention Strategy
Introduction
Designing a restaurant loss prevention strategy is a vital aspect of running a profitable business. Whether you run an established chain or an up-and-coming restaurant, ignoring preventable sources of profit loss can derail the outlook of any business. In this day and age, a successful restaurant LP strategy revolves around two things:
A data-centric approach to understanding your main sources of profit loss
A detailed action plan that breeds targeted analysis, follow-through, and communication
Whether you are implementing a new loss prevention program or looking to revamp your current LP initiatives, these 9 restaurant loss prevention tips form a baseline to help you kick-start the process.
1. Identify Restaurant Fraud Patterns Early With Automated Alerts
Automating data analysis is a core foundational piece when building your loss prevention strategy. By finding things to take off your "manual analysis plate," you not only save yourself a data-mining headache, but you can also allocate resources more effectively.
Targeting common employee profit-draining activities like SITs or the wagon wheel scam is a good place to test your automation process – this is because there is usually a pattern to their fraudulent activity, which your data can easily expose.

Example: Transfer Scam

Definition: When a server leaves a check open during service and transfers items from cash checks to the open check. The server then applies a promo (or comp) to the items on the open check at the end of their shift.

Rather than manually reviewing restaurant check data and video (more on that later) to identify fraud at your restaurant, you can use your own historical data combined with industry trends to define an "unacceptable" level of activity for each fraud scam(i.e 3 transfers in a shift per employee); and set an alert for it. This "set it and forget it" methodology gives you the peace of mind that if suspicious employee behavior appears, you will be made aware without the need to waste time searching for it.

Additionally, advanced restaurant alerting tools have the flexibility to continually add and adjust thresholds to be stricter (or more lenient) as employee behaviors change. So, as your loss prevention scope widens, you can institute more automation as things improve.
Common Restaurant Fraud Scams
Auto Gratuity Scam
Focus on employees with above-average check counts containing auto-gratuities or above-average total top-to-sale percentage.
Employee/Manager Meal Abuse
Focus on employees' manager meal to shift percentage by comparing managers against other managers and look for those above the average or threshold you set.
Shell Game Scam (Voids/Discounts/Cancels)
Focus on variance metrics and set alerts on cashier voids, discounts, cancels, etc. for the day and flag those above a certain threshold outside of the norm.
Tip Boosting Scam
Focus on tip % by the server and look for those outside of the norm. You can also compare tips for orders containing voids and those without voids to try to zero in on the transactions that are the issues.
Wagon Wheel Scam
Analyze same item transfers in cash transactions by the employee or monitor overall transfer activity by an employee to see if anyone is outside of the average.
2. Refine Cash Handling Procedures & Track Performance
Well-defined cash handling procedures reduces the risk of cash loss via employee theft or error. If you lack a well-documented plan, it makes it nearly impossible to track and identify cash handling issues. Poor cash handling procedures are usually a sign of poor overall operations, and knowing how your cash is being managed is a vital component of being a restaurant operator.
Best practices for developing or revamping your restaurant cash handling plan:
Place drop boxes close to the register, and perform periodic cash drops to limit the registered fund to the cash needed for the shift
Establish a till accountability program to promote proper behavior at the register, and reward those employees that follow the rules
Assign a trusted on-duty supervisor or manager to make cash deposits, but limit the number of individuals authorized to handle cash
Separate cash management duties, i.e. collecting cash, recording receipts, and check reviews to create a system of checks & balances
Create strict rules for discrepancies & communicate disciplinary procedures so that staff is aware that cash handling is a priority


Once your restaurant's cash handling plan is in place, you should organize a dashboard of cash management reports that highlight cash over/short for the day by store, register, or cashier that highlights those which exceed the established thresholds.
Additionally, a cash index report that includes voids, refunds, discounts, and any other metric that could indicate how a cash shortage (or surplus) occurred will help you gauge where issues commonly occur.
LEARN HOW MOD PIZZA IS STOPPING LOSS IN ITS TRACKS
3. Take Control of Your Restaurant Food Cost
Analyzing your restaurant's food cost is a crucial element to running an efficient food service business. Ordering strategies, waste reduction, product turnover timeliness, and employee theft identification are all things that can be addressed when you have better visibility into food cost optimization.

Ideal quick service restaurant (QSR) food cost percentage is between 25-30%, where table service restaurants (TSR) food cost should range between 30-35% depending on the style of restaurant and mix of sales. To keep within these ranges, some best practices include:
Track food cost trends against item sales
Comparing food costs to what is actually sold can provide insight into items that are being over-ordered, poorly rotated, or stolen from the kitchen.
Monitor employee meals & other comp'd items
Make sure that you set thresholds for employees' meal discounts, communicate those expectations to your staff, and monitor follow-through.
Use historical data to set goals by restaurant
Set realistic goals for food cost percentage and try to set prices that fall in line with desired margins, and know which profitable items to promote.
Use food cost data to assist restaurant operations with menu engineering
Balance out your menu by assessing item profitability to ensure your menu is not costing you extra money.
5. Boost Restaurant Labor Productivity to Control Costs
Much like restaurant food costs, restaurant labor cost is a major operating expense that cannot be pushed to the backburner. Using restaurant data to supplement labor planning makes shift scheduling a much "smarter" process and it is the clearest path to avoiding unnecessary labor expenditures. However, lacking a focus on restaurant labor efficiency can open you up to profit-draining pitfalls like overstaffing, understaffing, or employees "stealing time."

Tactics to reduce restaurant labor costs:
Alignment of Staffing & Business Needs
Analyze sales by day of the week, revenue center, daypart, etc. and increase or reduce staff on hand based on peak and downtimes.
Awareness to Employees Approaching Overtime
Review weekly shifts and be alerted to servers approaching overtime so that you can optimize labor planning and remain compliant with corporate overtime policies.
Analysis of Scheduled to Worked Hours
Evaluate staff attendance vs. scheduled hours to know if particular associates commonly leave you shorthanded.
Detection of Time Clock Abuse/Fraud
Review metrics to prevent restaurant fraud via manual time card manipulation & non-worked hours by the server, as well as break down avg break and shift length to ensure that your staff is not milking the clock.
6. Use In-Restaurant Video as Confirmation Not Investigation
Video can be a powerful tool within a restaurant loss prevention strategy, but it should not be used as the primary method for identifying loss.
Restaurant video analysis can be a crutch because you are starting at the source; it's inefficient for two primary reasons:
1. You don't know what you're looking for.
Starting with video is like trying to win the lottery. You're hoping to hit on an incident with no context. You can increase your odds by letting the data inform your video investigation strategy.
2. You are working backward.
It's the "forest from the trees" concept, starting with the details makes it difficult to see the big picture. Is this a localized problem or a systemic issue?
Rather than starting with video and searching for the problem, restaurant loss prevention teams should focus on identifying issues in the data prior to resorting to video investigation. Avoid false positives by letting your data tell you when a particular store, employee, or item is outside the norm. Once you have the numbers that back up your assumptions, drill down into the details to make your entire investigation process more efficient.
Hint: A best-in-class data analytics solution provider will have the ability to integrate your video directly into their solution.
7. Have Above-Store Procedures in Place to Ensure Proper Manager Follow-Up
How your restaurant handles and tracks follow-up is just as, if not more important, than actually identifying issues. Without a defined "action plan" to address how to proceed when an incident is discovered, you leave yourself open to restaurant managers pushing problems to the wayside.
Developing and adopting a standardized follow-up workflow can help streamline and operationalize your restaurant loss prevention efforts.
Following the chart in this section (below), we will walk through a framework that your management team can build their follow-up process upon.
Define company-wide potential causes and accepted resolutions for easy tracking of recurring issues
Ensure managers know the follow-up steps for each type of issue by publishing corporate action plans
Validate that an issue has been viewed with a form of acknowledgment
Easily track issue/incident history to identify recurring problems that keep coming up so that you can pinpoint the source within the chain of events

Once a follow-up plan is in place, you will see that there's an immediate sense of restaurant-level buy-in because performance insights are now shining a spotlight onto under-performing staff and managers.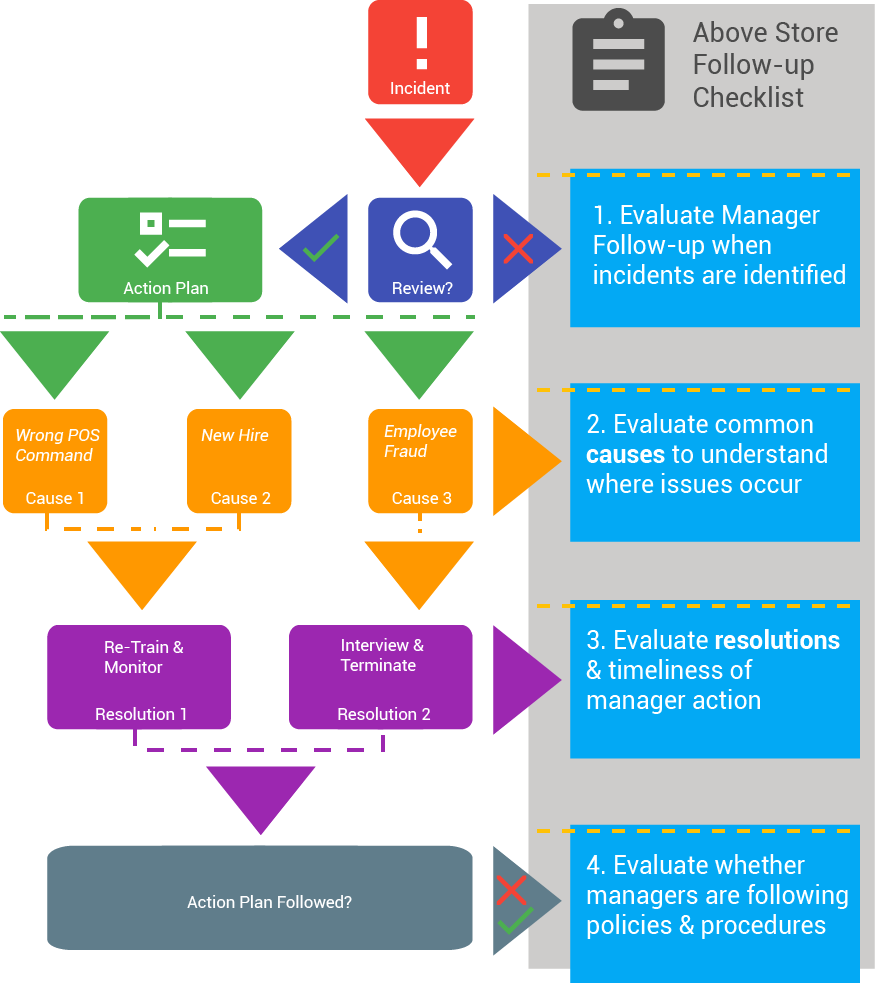 8. Clearly Communicate Restaurant Policies & Repercussions
Communication is another key to an effective restaurant loss prevention strategy. Whether it is in employee training, during regular meetings, or when a new policy is introduced, make sure that your staff is well aware of the rules & repercussions involved. Drawing their attention to the software or processes that are in place to monitor their activity can sometimes be a deterrent to future "bad" behavior.

This may seem like an obvious one, but the majority of restaurant employee fraud is opportunistic or due to the belief that they either won't be caught or there will be no repercussions. Make sure the employee handbook is readily available, post signs in the back office or kitchen, and follow through with the rules so your staff knows their negative activities do not go unnoticed.

There is a fine line between running a tight ship and appearing overbearing. So, promote open dialog with your staff so that they feel like they are an important part of the team. This approach will make them feel like a vital asset to the restaurant, and help preemptively prevent restaurant theft while improving overall morale.
9. Continue to Grow, Tweak, and Refine Your Restaurant LP Strategy

The final and possibly most important tip for any loss prevention strategy is that no decisions, priorities, or thresholds are ever final. What you will likely find, as you start identifying and addressing more issues related to restaurant theft and/or inefficiencies, is that the same issues will start happening less and less because your loss prevention strategy is actually working.

But it also means that you should continue to tweak thresholds to find new issues, stay up on industry tactics, and broaden your scope to find potential new sources of loss or profit opportunities. As stated in the previous tip, employees that are looking to steal are opportunistic, so as you prevent restaurant theft one way, they will find another.

Continuing to audit your loss prevention reports, alerts, and resolved issues to ensure they remain effective will give you the best chance to optimize your restaurant performance and earn the most profit.

Find out more about loss prevention with Agilence.
Goodbye, shrink. Hello, profits.
See how we help companies reduce shrink and improve margins by reducing preventable loss with data & analytics.